Description

Aspire K2 Tank
The Aspire K2 vape tank offers a good introduction to vaping and is simple to use even if you're just starting out. Capable of holding 1.8ml of e-liquid, this tank produces a small amount of vapour. This allows you to inhale much like you would with a cigarette, this is called mouth to lung vaping.
Asprie K2 Features:
Aspire Vape Starter Tank
1.8ml E-Liquid Capacity
Bottom Filling
Fixed Airflow
510 Connection
Compatible with High PG E-Liquid
Supports Mouth To Lung Vaping
Compatible with most vape devices, the K2 features a standard 510 threaded connection which in turn ensures a constant connection. Thanks to the fixed bottom airflow you'll experience improved flavour from your e-liquid, the fixed nature of this airflow also means you'll experience a consistent vape.
Refilling the K2 is simple, thanks to the removable base. Hold the tank upside down, unscrew the base and fill up. This is also the method for changing the included Aspire 1.6 Ohm BVC coil. These coils offer improved flavour and are compatible with high PG e-liquids, that are 50% PG or higher.
Aspire K2 Tank Contains:
Aspire K2 1.8ml Vape Tank
Aspire 1.6 Ohm BVC Coil
User Manual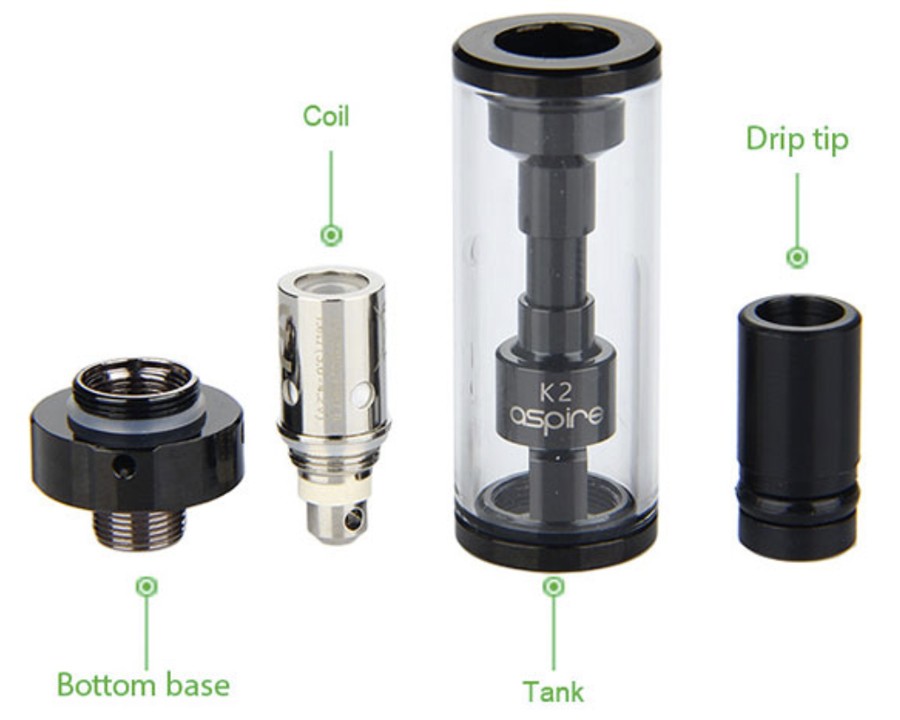 With a stylish yet sleek design, the Aspire K2 vape tank is compatible with the majority of vape mods.

To refill the K2 vape tank, simply unscrew the bottom cap and fill the tank with an e-liquid of your choice before securing back in.