Description
Lost Mary Disposable Vape
2% Nicotine
Lost Mary vapes are a range of disposables that are easy to use and available in a wide range of flavours. With a focus on fruit and menthol blends, the Lost Mary BM600 vapes deliver a sweet and cool taste with every inhale – Speaking of inhaling, that's all you need to get started, just inhale on your device's mouthpiece and it will activate instantly. Plus, the 20mg nic salt in each delivers a smooth throat hit.
WHAT IS A LOST MARY DISPOSABLE VAPE?
Lost Mary disposables are a quick and easy way to vape, available in a wide range of flavours. There's no refilling or recharging required – just replace your device when it's empty and keep on vaping as normal. Smaller than a standard disposable vape and featuring a unique flask design, each device delivers up to 600 puffs.
Every flavour of Lost Mary disposable BM600 vape comes in a unique colour, so there's always an option to suit your style.
WHICH IS THE BEST LOST MARY VAPE FLAVOUR?
Take your pick from a wide selection of fruit, menthol, candy and soda flavours in the Lost Mary range with popular options including Blueberry Sour Raspberry and Double Apple. Whichever flavour you choose, the nic salt e-liquid used in each vape delivers a smoother throat hit and allows you to taste more of your vape. Check out our full range of disposable vapes for more flavour options.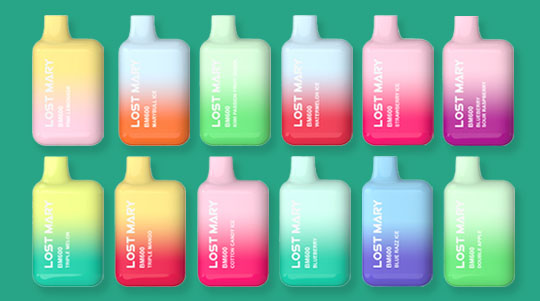 HOW LONG DOES A DISPOSABLE LOST MARY VAPE LAST?
A Lost Mary disposable vape should last as long as a pack of 20 cigarettes at least. This is because each device is filled with 2ml of e-liquid and that's enough to deliver 600 puffs. When the light on the bottom begins to flash, or the device stops producing vapour, that means it's time to swap over to a new device.
ARE THE LOST MARY DISPOSABLE VAPES EASY TO USE?
Smaller and simpler to use than a lot of classic vape kits, the Lost Mary disposable vapes don't rely on buttons or confusing menu systems – just take it out of the box and start vaping. You don't even have to add more e-liquid; when your disposable runs out of liquid you can start using a new one. An inhale activated vape, just breathe in on the mouthpiece to get started.
Lost Mary Disposable Vape