Description
Tecc arc 5 Kit
Retaining its class-leading 2200mAh internal battery, up to 40W of power, sub-ohm capabilities, stainless steel threads and a spring loaded 510 connection, the arc 5 is now accentuated by the CS Air Slim tank. Offering pinpoint airflow control and even more control over your vaping experience.
The built in OLED screen displays the battery level, output in both watts and volts, as well as the resistance of your atomizer and length of time you draw on the device on each inhale. Put your arc 5 e-cig into stealth mode with a few clicks and lock your preferred settings with key lock mode.
The 2200mAh internal battery has built in short-circuit protection to keep you vaping safe, up to 40W of power and a micro USB port for charging. The ability to fire sub-ohm atomizers allows for versatility with a wide range of tank systems, RDA's and RTA's.
The CS Air Slim tank uses CS atomizer heads, has a sturdy construction and is the ideal match for the arc 5 e-cigarette. The refined airflow adjustment means you have more control over your vaping experience.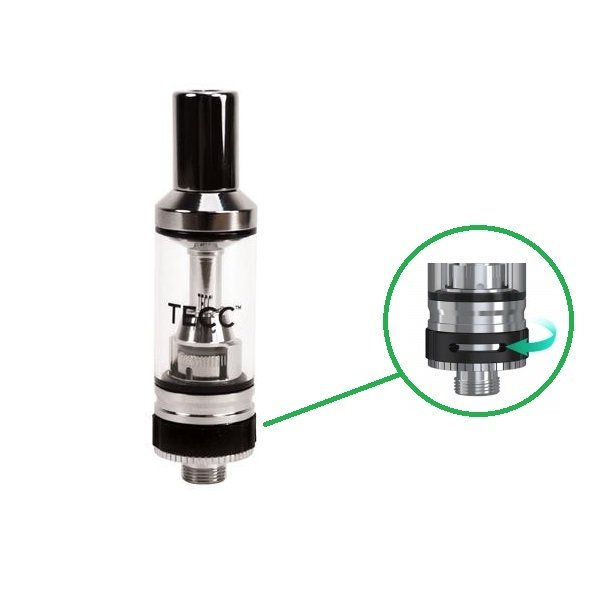 5 click on/off functionality allows safe storage of the device, and the pass-through capability gives you the option to use the arc 5 while it is charging.
Specification:
Battery capacity – 2200mAh
Tank capacity – 1.8ml
Atomizer resistance – 1.5ohm
Output wattage – 1-40W
Dimensions: Battery – 77mm x 32.5mm x 23mm / Tank – 16.5mm x 64mm
Assembled weight exc. packaging – 140g approx.
Kit Includes:
1 x arc 5 battery
1 x CS Air Slim tank
1 x CS atomizer head (fitted)
1 x USB charging cable
If you require more coils for this device click here